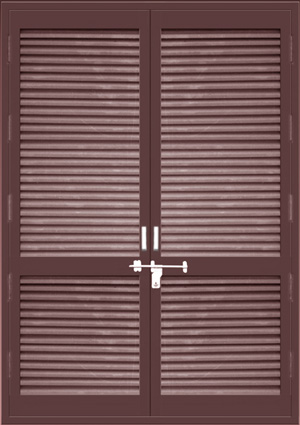 FRONT VIEW
REAR VIEW
Frame:


Frame is made of Hollow Metal Pressed Section Size: 150mm x 60mm x 1.6mm. thick C. R. Sheets. Top member of the frame is welded with side members. 4hinges are fixed with nuts and bolts and flushed with frame. Size of the hinges 125mm x 3mm. thick. Two tie bar angles are welded at the bottom of the frame. Eight holdfasts are provided on the sides of the frame vertically

Shutter:

Shutter is made of C.R. Sheets, hydraulically pressed, frame of shutter made of Hollow Metal Pressed Section. M.S. Louvers welded at the distance of 50mm. Back side of the shutter is fixed with fly proof mosquito nets, butt nuts and bolts with M. S. Flat, M.S. Aldrop, handle, Tower bolts provided

Finish: Epoxy primer.